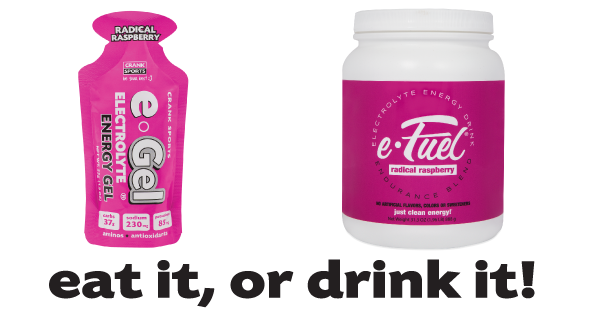 e-Gel
Energy gels are super convenient, especially for runners and other athletes that need to carry their nutrition but don't want to carry the water weight (get your water along the  way). If that's you, then check out e-Gel, it's low in sugar and loaded with complex carbs (that's good), has a thinner consistency than thick gels (no more choking on your gel), and it provides balanced electrolyte replacements to help maintain hydration and avoid cramping and injuries.
e-Gel Overview
Competitive Comparisons
Pricing
---
e-Fuel
If you don't like energy gels or you're not as worried about carrying your nutrition (cycling, court sports, field sports, etc.), then check out e-Fuel. Our hydration drink mix is also low in sugar, loaded with complex carbs and electrolytes – all in a great tasting drink with no artificial flavors, colors or sweeteners … it's just clean energy!
e-Fuel Overview
Competitive Comparisons
Pricing
---
Our customers tell it best…
Gainesville , FloridaSport: Cycling
---
Leawood, KansasSport: Triathlon
---
Houston, TexasSport: Running
---
Maricopa, ArizonaSport: Running
---
Dallas, TexasSport: Running & Cycling
---
Waynesboro, VirginiaSport: Triathlon
---
Oklahoma City, OklahomaSport: Running, Triathlon
---
Big Bear City, CaliforniaSport: Triathlon
---
Springfield, IllinoisSport: Running
---
Houma, LouisianaSport: Running and Triathlon
---
McKinney, TexasSport: Triathlon
---
Dallas, GeorgiaSport: Ultra Running
---
Marietta, GeorgiaSport: Ultra Running
---
Mill Valley, CaliforniaSport: Triathlon
---
Battle Creek, MichiganSport: Running
---
Sonoma, CaliforniaSport: Cycling
---
Martinsville, IndianaSport: Cycling
---
Marysville, WashingtonSport: Ultra Running
---
Alameda, CaliforniaSport: Swimming
---
Union Grove, AlabamaSport: Cycling
---