Crank Sports has been around since 2001 and many of early customers are still with us. We aren't the biggest company in the industry and we never will be because our goal isn't to sell the most products, it's to make great performing products that allow our customers to be their best! As you look at our customer testimonials here and here you can judge for yourself how well we're doing.
I've decided to start this blog to allow our customers to get a little behind the scenes look at what we do and why we do it. Enjoy!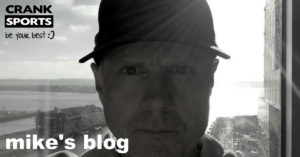 Mike Mathewson
Founder
Crank Sports, Inc.
why we'll never make a recovery product
In life it's usually easy to say "YES", and not so easy to say "NO". Does anyone disagree? When it comes to making a recovery specific product, I say no, read why and learn what I do for recovery.
Littering is a problem, but we'll never put a litter leash on packs of e-Gel. They're a bad idea, read why.
I like to say that there's two types of athletes: those that are injured and those that will be. Here's how I've dealt with this unfortunate truth through my career.
how we develop new flavors
We have a different view on flavors than our competitors and it's a big deal that often gets overlooked.
our twist on athlete sponsorship
Like most other things, when it comes to athlete sponsorships we do things a bit different than our competitors.
my background:
I have been a competitive endurance athlete the majority of my life and and a technology entrepreneur as my day job. I received a BS in Electrical Engineering from the University of New Hampshire, an MBA from Pepperdine University and began studying sports nutrition in the mid-90's. After starting, growing and selling two technology companies I decided to turn my passion for endurance sports into my career. Working with a great team of food scientists, I launched Crank Sports, Inc. in 2001. Today I spend much of my time working directly with athletes here at Crank Sports and I try to provide as much education as I can through our learning center.