we view flavors different than our competitors do
this is a big deal that often gets overlooked
Have you ever compared the "Nutrition Facts" panel of two different flavors of your favorite sports nutrition product? Often you'll find the nutritional information varies drastically from flavor to flavor. This is because the company has changed the carbohydrates, sugars, fats, electrolytes, etc. in order to make the flavor taste the way they want it to. Or more to the point, they have made a flavor to sell more product and sacrificed performance along the way. In my opinion this is the WRONG way to develop a sports nutrition product.

At Crank Sports we spent lots of time and money developing our base formulations for e-Gel and e-Fuel. The result is that we truly believe they are the best energy gels and hydration drinks on the market. What sets them apart from the rest is the low sugar levels, high levels of complex carbs (
see why that's important
), a little bit of fructose (
here's why
) and complete and balanced electrolyte replacement. More importantly is the amounts and ratios of the various ingredients, and NO use of fats, fibers and/or proteins (
here's why
).

We then set out to design flavors that work within our set formulations. While this somewhat limits what flavors we can offer, we will never change the nutritional formulation to make a flavor just to sell more product. At that point we might as well fold up the tent and go home because that would be violating our core values. Our goal is to make the best performing products that allow our customers to be their best!
What this means is that you won't see a chocolate flavor from us, because you need fat and more sugar to make it taste good. And as much as I like vanilla, we won't make a vanilla e-Gel (we tried) because the high levels of electrolytes don't play very nice with vanilla (too salty). And then there's all the super sweet flavors that GU and others now offer (Birthday Cake, S'mores, French Toast, Marshmallow, etc.) … seriously? These are obviously much higher in sugar content than e-Gel and we would never make them.
So when you pick up a pack of e-Gel, you know it's going to work just as well (performance wise) as every other e-Gel flavor. The same goes for e-Fuel, as it should be!
My recommendation is to use e-Gel or e-Fuel in your race, crush the competition, and then enjoy anything you want after the race. It'll taste that much better when you just ran a PR!!
– Mike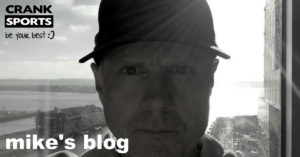 Mike Mathewson
Founder
Crank Sports, Inc.
why we'll never make a recovery product
In life it's usually easy to say "YES", and not so easy to say "NO". Does anyone disagree? When it comes to making a recovery specific product, I say no, read why and learn what I do for recovery.
Littering is a problem, but we'll never put a litter leash on packs of e-Gel. They're a bad idea, read why.
I like to say that there's two types of athletes: those that are injured and those that will be. Here's how I've dealt with this unfortunate truth through my career.
our twist on athlete sponsorship
Like most other things, when it comes to athlete sponsorships we do things a bit different than our competitors.
my background:
I have been a competitive endurance athlete the majority of my life and and a technology entrepreneur as my day job. I received a BS in Electrical Engineering from the University of New Hampshire, an MBA from Pepperdine University and began studying sports nutrition in the mid-90's. After starting, growing and selling two technology companies I decided to turn my passion for endurance sports into my career. Working with a great team of food scientists, I launched Crank Sports, Inc. in 2001. Today I spend much of my time working directly with athletes here at Crank Sports and I try to provide as much education as I can through our learning center.