Stomach Issues
There's nothing worse than having stomach and GI issues, having gas, being nauseous or throwing up during an endurance event. The typical causes for stomach and gastrointestinal issues are:
– Using energy gel with not enough water or something other than water
– Having liquids in your stomach that are too concentrated (hypertonic)
– Having slow to digest solid foods in your stomach and intestinal tract
– Artificial sweeteners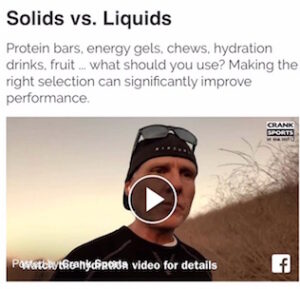 Watch this video (right) for a more detailed discussion, but in short the majority of these issues are a result of things in your stomach not being processed and moved along as rapidly as they should. The solution to most of these issues is sticking with liquid carbohyrates (energy gels with water or hydration drinks), using complex carbs and avoiding simple sugars, and making sure you have enough fluids to keep everything moving through the osmosis process. Artificial sweeteners also are a common culprit as they are typically designed to be used in small amounts in diet foods. However, some sports drinks use artificial sweeteners in large quantities, and then the athlete consumes large amounts of the drink. Some people can handle this, but in others the results are not pleasant.
e-Gel and e-Fuel are designed with this in mind and are loaded with complex carbs and very little simple sugars and no artificial sweeteners.
Stories from our customers about how our products have solved their stomach problems:
Leawood, KansasSport: Triathlon
---
Houston, TexasSport: Running
---
Maricopa, ArizonaSport: Running
---
McKinney, TexasSport: Triathlon
---
Dunwoody, GeorgiaSport: Running
---
Laurel, MarylandSport: Ultra Running
---
Tampa, FloridaSport: Triathlon
---
Calgary, ALBERTASport: Triathlon
---
Los Angeles, CaliforniaSport: Running
---
Philadelphia , PennsylvaniaSport: Running
---
Milwaukee, WisconsinSport: Ultra Running, Triathlon
---
Okinawa, Japan, FloridaSport: Triathlon
---
Erie, PennsylvaniaSport: Running
---
Tucson, ArizonaSport: Ultra Running and Gravel Cycling
---
Indianapolis, IndianaSport: Running
---
Pulaski, WisconsinSport: Running, Ultra Running
---
MOLINE, IllinoisSport: Running
---
Orange, MassachusettsSport: Canoe Racing
---
Carson City, NevadaSport: Ultra Running
---
Ellicott City, MarylandSport: Running
---
Valley Glen, CaliforniaSport: Running
---
Stowe, VermontSport: Cycling
---
Oswego, New YorkSport: Triathlon
---
Oak Creek , WisconsinSport: Running
---
Farmington, UtahSport: Running, Triathlon
---
Cape Coral, FloridaSport: Triathlon
---
Yorba Linda, CaliforniaSport: Hockey, Mountain Biking
---
Glendora, CaliforniaSport: Running
---
Sunnyvale, CaliforniaSport: Running, Triathlon
---