How to Avoid the Dreaded "BONK"
Bonking, hitting "the wall", the sudden and overwhelming feeling of running out of energy. Most endurance athletes have experienced this more than once, and the good news is that it can be avoid through proper "during event" nutrition.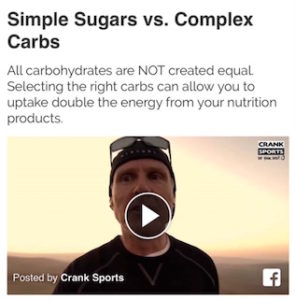 Bonking can be caused by a sudden drop in blood sugar, but more often it is caused by your "fuel tank" running out of energy. Your glycogen stores (your on-board fuel tank) only hold about 2,000 calories (1,600 in your muscles and 400 in your liver), assuming you are properly carbo loaded. You also have body fat that can be used as a fuel source, but fat is more of a survival fuel and you'll feel horrible (bonk) if that's all you've got left. The solution is to limit your use of simple sugars and rely predominantly on complex carbohydrates during your event. Watch this video (right) for a complete explanation of why complex carbohydrates allow your body to uptake twice as much energy compared to using simple sugars
e-Gel and e-Fuel are designed with this in mind and are loaded with complex carbs and very little simple sugars.
Customer Testimonials
Read some of these stories from our customers about how our products have solved these problems:
Martinsville, IndianaSport: Cycling
---
Livermore, CaliforniaSport: Ultra Running
---
Burns, OregonSport: Cycling, Mountain Biking
---
Westmoreland, New HampshireSport: Canoe Racing
---
Little Rock, ArkansasSport: Cycling
---
Santa Ana, CaliforniaSport: Triathlon
---
Phoenix, ArizonaSport: Cycling
---
Burns, OregonSport: Cycling
---
McAllen, TexasSport: Cycling
---
Fort Worth, TexasSport: Golf
---
Mountain Dale, New YorkSport: Mountain Biking
---
Kingfisher, OklahomaSport: Cycling
---
Sun Prairie, WisconsinSport: Inline Skating
---
Tampa, FloridaSport: Triathlon
---
Monterey Park, CaliforniaSport: Triathlon, Running
---
Cape Coral, FloridaSport: Triathlon
---
Dallas, TexasSport: Running
---
Bellflower, CaliforniaSport: Cycling
---
Yorba Linda, CaliforniaSport: Hockey, Mountain Biking
---
Suwanee, GeorgiaSport: Running
---