e-Gel Single Packs
$1.99/each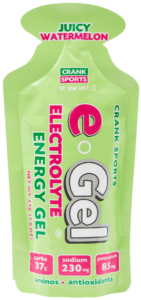 Juicy Watermelon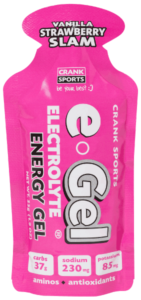 Vanilla Strawberry Slam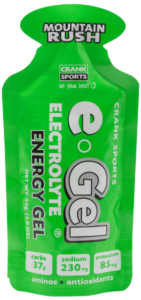 Mountain Rush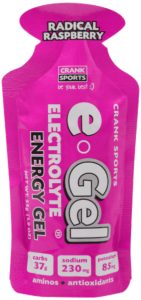 Radical Raspberry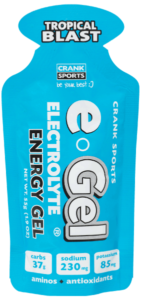 Tropical Blast
Cherry Bomb
Buy a box and save!
Trial Pack
12 gels (2 of each flavor)
$20.39

Pro Pack
30 gels (2 of each flavor)
$45.89

Flavor Box
24 gels (pick a flavor)
flavors and pricing
Also check out e-Fuel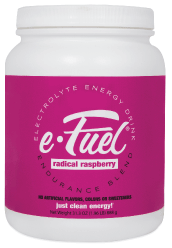 e-Fuel hydration drink mix is low in sugar and loaded with complex carbohydrates for sustained energy along with antioxidants and balanced electrolyte replacement. e-Fuel is Gluten free and has NO artificial flavors, colors or sweeteners … it's Just Clean Energy!
---
Our customers tell it best…
Vicki Griffin
"I am an Ironman distance, age grouper triathlete trying to qualify for Kona. Nutrition has always been a struggle... stomach issues, etc.... I used e-Fuel and e-Gel on my last 70.3, had no stomach issues, and won my age group." ...
continue reading
Leawood, KansasSport: Triathlon
---
Keith Castleton
"Figuring out how to stay hydrated, not get upset stomach and prevent muscle cramps during long runs and races has been one of my biggest challenges. In the past my muscles would ache and twitch and cause me a lot of pain after long runs. I came across e-Gel energy gels this summer used them during the Top Of Utah Marathon, took 17 minutes off my previous marathon PR and easily qualified for Boston." ...
continue reading
Maricopa, ArizonaSport: Running
---
Jeff Rommel
"I broke the golden rule and tried e-Gel for the first time on race day. I ran the Houston Marathon and it was a great experience - no stomach issues and no muscle cramping. Water in my bottle and an e-Gel every hour got me through the race. I'm not the fastest runner, but I set a PR!" ...
continue reading
Houston, TexasSport: Running
---
Kathy Murgas
"A friend recommended e-Gel years ago. I tried it, loved it, and 65 marathons (including 1 in each of the 50 states), I am still using it. I've changed the way I train, the shoes and wear, the clothes I wear, but never the gel I use." ...
continue reading
Dallas, TexasSport: Running & Cycling
---
Shawn Smith
"At the USA Cycling Marathon Championships it was a 58 mile course and temps around 80-84. ... I raced to a 3rd place on only 2 bottles of e-Fuel and 2 e-Gels. No way around it. This product works and is fueling you can trust." ...
continue reading
Gainesville , FloridaSport: Cycling
---
Bruce English
"I recently completed a half-iron distance triathlon with a brutal bike course. At the end of the ride my quads started to cramp. I nursed an e-Gel over the first mile of the run and the cramps abated. I thought it may have been coincidence, but when the cramps resurfaced at mile 7 only to resolve with another e-Gel I was sold. I only drank water on the run and took e-Gel, so I feel confident that this product made the difference. " ...
continue reading
Waynesboro, VirginiaSport: Triathlon
---
Frank Noble
"Gels I've used prior would include Hammer, Honey Stinger, GU, and VFuel. Carb/Electrolyte drinks would include Hammer HEED, VFuel, and Tailwind ... I can say hands down these products are by far the best in both categories" ...
continue reading
Dallas, GeorgiaSport: Ultra Running
---
David Ball
"I've been using e-Gel for 2 years exclusively and will not go with anything else....I qualified for Boston with a 3:18:16 and felt great. One e-Gel 15 minutes before the race and one at miles 6, 12, 18, and 23 mile marks and then the last three miles were my fasted splits" ...
continue reading
Oklahoma City, OklahomaSport: Running, Triathlon
---
Adam Lecompte
"This is by far the best energy gel product on the market, and I have been through them all. I have had nothing but positive training and racing experiences with this product. I trained on and used e-Gel in a half half marathon and busted a 1:32.44! My personal best of 5 half marathons. The sustained energy is incredible! I absolutely love this product." ...
continue reading
Houma, LouisianaSport: Running and Triathlon
---
Mary Rogers
"I used e-Gels exclusively and exactly as directed in training for the Lakefront Marathon. This was my fourth marathon and I did not expect to PR, but just to complete it well. With the help of e-Gels taken at miles 2, 7, 13, 18, and 23, I took 10 minutes off of my marathon time and never hit the 'wall' or cramped as I had done in previous events. Some guy laughed at me at the start asking why I had so many energy gels. I told him I had a plan and I was sticking to it. I'm pretty sure I passed him somewhere around mile 22." ...
continue reading
Springfield, IllinoisSport: Running
---