Cramping and Injuries

Do you experience muscle cramps, excessive muscle soreness, long recovery times, muscle pulls and strains?
There are several potential causes of these problems, and many of them can be addressed through your nutrition. Remaining properly hydrated is at the top of the list as dehydration will significantly increase your risk of muscle pulls and strains. Electrolytes play a critical role in remaining hydrated as well as potentially reducing cramps. Amino Acids help reduce lactic acid build up and aid in recovery. And Antioxidant Vitamins C and E help protect against tissue damage, reduce soreness and aid in recovery.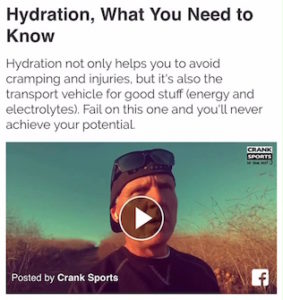 Watch this video (right) for a more complete discussion on avoiding cramping and injuries. Here's some of our customers that have had success with cramping problems using e-Gel and e-Fuel:
Customers that have solved cramping with e-Gel and e-Fuel

Maricopa, ArizonaSport: Running
---
Houston, TexasSport: Running
---
Waynesboro, VirginiaSport: Triathlon
---
Big Bear City, CaliforniaSport: Triathlon
---
Springfield, IllinoisSport: Running
---
Mill Valley, CaliforniaSport: Triathlon
---
Union Grove, AlabamaSport: Cycling
---
Atlanta, GeorgiaSport: Adventure Racing
---
Tampa, FloridaSport: Triathlon
---
Brandon, FloridaSport: Triathlon
---
Palmdale, CaliforniaSport: Ultrarunning
---
Glendale, CaliforniaSport: Cycling
---
Longmont, ColoradoSport: Triathlon
---
Woodstock, GeorgiaSport: Triathlon
---
Los Angeles, CaliforniaSport: Running
---
La Jolla, CaliforniaSport: Triathlon
---
Asheville, North CarolinaSport: Soccer
---
Lithia, FloridaSport: Cycling
---
Lincroft, New JerseySport: Running
---
Sacramento, CaliforniaSport: Running
---
Whittier, CaliforniaSport: Running
---
Pulaski, WisconsinSport: Running, Ultra Running
---
Irvine, CaliforniaSport: Triathlon, Mountain Biking
---
Half Moon Bay, CaliforniaSport: Dirt Bike
---
Kansas City, MissouriSport: Climbing/Hiking
---
Stowe, VermontSport: Cycling
---
Hayward, CaliforniaSport: Cycling
---
Dallas, TexasSport: Running
---
Lewiston, IdahoSport: Walking
---
little rock, ArkansasSport: Running
---
Niwot, ColoradoSport: Running, Cycling
---
Winchester, VirginiaSport: Mountain Biking
---
Sunnyvale, CaliforniaSport: Running, Triathlon
---
Tampa, FloridaSport: Running
---