Energy Gels: Simple Sugars vs. Complex Carbohydrates
Why is the type of carbohydrate in your energy gel important?
Simple sugars in your energy gel will rapidly increase your blood sugar – so what's wrong with that?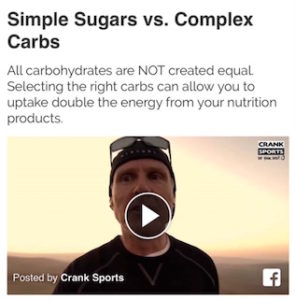 If you spike your blood sugar level then you will have lots of energy … for a little while, and then it will come crashing down. This doesn't work so well for "endurance" athletes. Simple sugars can do just that, a little bit is okay but too much will quickly raise your blood sugar. If it could stay elevated life would be great, but unfortunately it can't, and when and comes back down it drops (crashes) well below where it started. When this happens during athletic activity it is a dual edged sword.
First, your performance will drop as the blood sugar drops because your body is depending on that energy that is no longer available. More importantly, when your blood sugar spikes, your body will temporarily stop releasing insulin which plays a critical role in the energy conversion process. When insulin is released from the pancreas, it travels through the bloodstream to the body's cells and tells the cell doors to open up to let the glucose in. Once inside, the cells convert glucose into energy to power your working muscles. If your insulin level drops then your body will no longer be able to as efficiently convert your muscle glycogen and glucose into usable energy … here comes the BONK!!!
The goal is to maintain a consistent blood sugar level without the spikes and crashes, and this is achieved by relying primarily on complex carbohydrates and low simple sugar levels, and that's exactly what you get with e-Gel!
How Much Sugar is in Your Energy Gel?
Click a gel for details:
---
e-Gel Customer Testimonials
Real Stories from Real Customers …
Houston, TexasSport: Running
---
Maricopa, ArizonaSport: Running
---
Waynesboro, VirginiaSport: Triathlon
---
Houma, LouisianaSport: Running and Triathlon
---
Springfield, IllinoisSport: Running
---
Big Bear City, CaliforniaSport: Triathlon
---
Oklahoma City, OklahomaSport: Running, Triathlon
---
Marietta, GeorgiaSport: Ultra Running
---
Battle Creek, MichiganSport: Running
---
Cleveland, OhioSport: Hockey
---
Dunwoody, GeorgiaSport: Running
---
Livermore, CaliforniaSport: Ultra Running
---
Lakewood, CaliforniaSport: Running
---
Burtonsville, MarylandSport: Adventure Racing
---
Dunwoody, GeorgiaSport: Triathlon
---
Burns, OregonSport: Cycling, Mountain Biking
---
Glendale, ArizonaSport: Triathlon
---
Columbia City, IndianaSport: Running
---