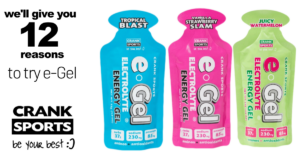 competition (we beat them)
complex carbs
low sugar
multi-carb sources
4 x electrolytes
thin consistency
less expensive
no artificial colors/sweeteners
no caffeine
no fat, fiber or protein
aminos and antioxidants
large easy-grip top
customer testimonials
More detail on each of these reasons:
---
#1: Competiton
When you compare e-Gel to other energy gels, the advantages of e-Gel become obvious. We've prepared head-to-head comparisons between e-Gel, GU, Roctane, PowerGel, Hammer Gel, Clif SHOT and all the rest. Check it out:
---
#2: Complex Carbs
(lots of them!)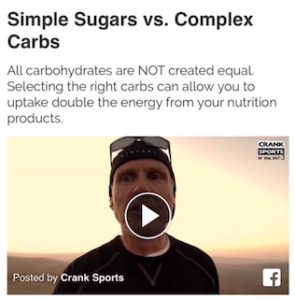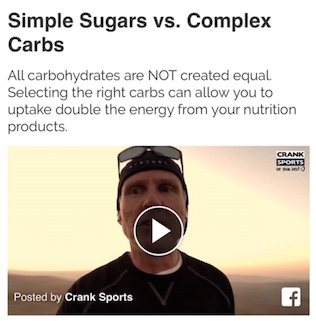 During athletic activity your body depends on your glycogen stores as its primary source of energy, and to a lesser degree on your body fat. Fat is an inefficient fuel source in comparison and therefore you are not able to achieve optimum performance when relying on fat as a significant source of energy. During endurance sports this raises a dilemma because your glycogen stores are limited in how much they can hold.
Fortunately there is a third source of energy – blood sugar. The beauty of energy gels is that they are rapidly absorbed in your small intestine, thus providing energy in the form of blood sugar that can supplement your glycogen stores. However, not all energy gels are created equal, and if you want to achieve optimum performance then it is important to use a product that will deliver maximum energy to your body while also maintaining proper hydration and electrolyte balance. The key to maximizing energy is complex carbohydrates.
When selecting an energy gel, don't just look at the calorie count – look at the carbohydrate sources. Because of the way energy gels are absorbed by your body, you should look for high levels of complex carbohydrates. e-Gel derives 82% of it's carbohydrate energy from complex carbohydrates (maltodextrin), significantly more than GU and other gels.
For a more detailed explanation of why you get more energy with complex carbs, watch this short video:
video: complex carbs vs. sugars
---
#3: Low Sugar
As explained above, you should choose products with both high levels of complex carbs AND low levels of simple sugars. In addition to maximizing energy uptake, it also helps to maintain consistent energy levels without the spikes and crashes that are common with high sugar products.
Compare e-Gel (18% sugar) to GU Roctane (29%), GU (32%), Clif SHOT (50%), Huma Gel (80%) and Honey Stinger (100%)
---
#4: Multi-carb sources
e-Gel uses maltodextrin with a bit of fructose, which is a key difference. Fructose sometimes gets a bad rap for endurance athletes because when consumed in excess it can cause stomach and GI discomfort. But when you use small amounts of fructose it can actually significantly increase energy uptake and performance. For a more detailed explanation, read this article:
fructose: what you need to know
---
#5: 4x Electrolytes
(complete and balanced)
Endurance athletes sweat … a lot! When we sweat it cools down the body through evaporation, but unfortunately sweat contains critical electrolytes that need to be replaced in order to maintain hydration, avoid cramping and reduce the risk of injury. Other energy gels have very few electrolytes which means you should also be using some sort of electrolyte supplement. With e-Gel just take the gel and water and you get everything you need.
Each pack of e-Gel contains
230 mg Sodium
85 mg Potassium
---
#6: Thinner Consistency
Most gels are so thick that you have to have water immediately just to get it down. With e-Gel we like to say it's more like drinking it than choking on it. It's not too thin, but just right so you can get it down and then take your water when it's convenient.
---
#7: Less Expensive
GU and most other gels sell for about $1.50 (100 calorie packet) and depending on the quantity of e-Gel you purchase, you can get 100 calories of e-Gel for as low as $0.81.
Each packet of e-Gel provides 150 carb calories which also means that you have fewer packets to carry and less trash to deal with.
---
#8: No Artificial Colors or Sweeteners
We actually don't add any color to e-Gel at all, what you see is just the natural color of the ingredients.
As for artificial sweeteners and sugar substitutes (Xylitol, Sucralose, etc.), these can cause all kinds of gastrointestinal issues (gas, cramping, etc.), and really have no place in an energy gel. You won't find these ingredients in any of our products.

---
#9: No Caffeine
Read our view on caffeine and why we don't put it in e-Gel or any of our products:
article: caffeine
---
#10: No Fat, Fiber, Protein
Fats, fiber and protein have to go through a digestive process that draws blood and oxygen away from the working muscles. This can be completely counterproductive to your workout. For a more detailed explanation, watch this short video:
video: liquids vs solids
---
#11: Aminos/Antioxidants
e-Gel's amino acid blend is designed to slow lactic acid build up, fight muscle degradation and assist in maintaining focus and concentration.
The antioxidants in e-Gel are designed to protect tissues by neutralizing free radicals that are produced by the muscle's use of oxygen during intense athletic activity.
---
#12: Easy-Grip Top

e-Gel's large easy-grip top makes it easy to open no matter what you're doing.
Often energy gels are hard to open because you're sweating and going hard, and the tiny tabs are hard to grip. Nothing is more frustrating than having difficulty opening your gel.
---
Bonus: Customers Proof

Read what people are saying on Facebook: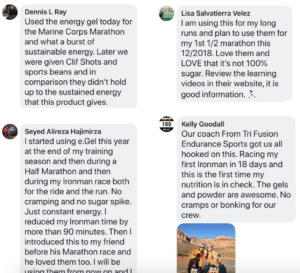 Facebook Customer Reviews
Customer Success Stories
Maricopa, ArizonaSport: Running
---
Houston, TexasSport: Running
---
Houma, LouisianaSport: Running and Triathlon
---
Big Bear City, CaliforniaSport: Triathlon
---
Waynesboro, VirginiaSport: Triathlon
---
Springfield, IllinoisSport: Running
---
Oklahoma City, OklahomaSport: Running, Triathlon
---
Marietta, GeorgiaSport: Ultra Running
---
Battle Creek, MichiganSport: Running
---
Cleveland, OhioSport: Hockey
---
Livermore, CaliforniaSport: Ultra Running
---
Lakewood, CaliforniaSport: Running
---
Burns, OregonSport: Cycling, Mountain Biking
---
Burtonsville, MarylandSport: Adventure Racing
---
Dunwoody, GeorgiaSport: Triathlon
---
Glendale, ArizonaSport: Triathlon
---
Columbia City, IndianaSport: Running
---
Pasadena , CaliforniaSport: Basketball
---