Virtually all sports drinks are loaded with sugar and they shouldn't be! Whether you decide to use e-Fuel or not, let us show you how complex carbs are the key to improving your performance.
e-Fuel is loaded with complex carbs, low in sugar and provides balanced electrolyte replacement to maintain hydration and help avoid cramping and injuries. e-Fuel also has NO artificial flavors, colors or sweeteners – it's Just Clean Energy!
e-Gel is loaded with complex carbs and has half the sugars of GU and other leading energy gels and it's the only Electrolyte Energy Gel with 4 times the sodium and double the potassium. And, with 150 carbohydrate calories, e-Gel packs 50% more energy than most competing energy gels. Get more energy, no sugar BONKS and complete electrolyte replacement to avoid cramping and injuries!

First time user.  I have Crohn's, Barrett's esophagus, hiatal hernia, GERD and vertigo.  I was hesitant about trying the e-Gel products.  I ordered a sample box.  Started with Radical Raspberry (I am not a raspberry fan). You made a believer out of me. 
Your product has a good taste, not thick nor sticky, and no dips in energy.  (As I was putting the rapper in a bag to discard later, I got some gel on my fingers.  No water needed and no sticky fingers).  No GI issues, no reflux, and no bloating.  Can't wait to try another flavor!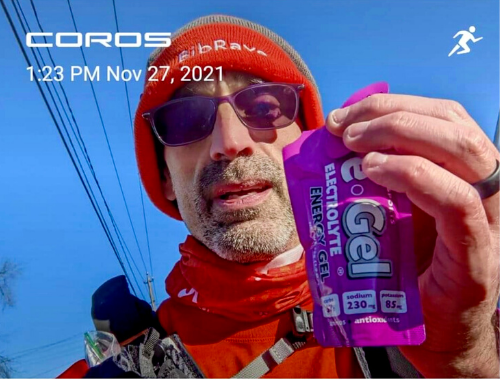 Many people have problems with other energy gels upsetting their stomach, but very few people have as many medical issues to deal with as Adam does, making it even more challenging. If e-Gel works for Adam we're 100% confident that it'll work for you as well! But if you're not convinced, read more stories like Adam's
reduce cramping and injuries!
Keith Castleton
"Figuring out how to stay hydrated, not get upset stomach and prevent muscle cramps during long runs and races has been one of my biggest challenges. In the past my muscles would ache and twitch and cause me a lot of pain after long runs. I came across e-Gel energy gels this summer used them during the Top Of Utah Marathon, took 17 minutes off my previous marathon PR and easily qualified for Boston." ...
continue reading
Maricopa, ArizonaSport: Running
---
sustained energy without the bonk!
Steve and Lynna Lyn
"My wife and I ride on average 200 miles per week. She is hypoglycemic and has searched for years for an energy source that she can tolerate on long rides up to 100 miles as well as higher intensity shorter rides. e-Gel and e-Fuel are absolutely the best for a no-bonk outing. We both use it on every ride." ...
continue reading
Martinsville, IndianaSport: Cycling
---
no more choking on thick energy gels!
Jeff Domenico
"I was running my best marathon ever in Detroit, had five miles to go and I took my e-Gel 100 yards before a water station. I got to the station and it was a bunch of guys handing out beer! GU and other energy gels are so thick that I would have needed water right away, but the e-Gel was so thin and easy to digest, I got through it just fine when I hit a water station about a mile later. Not only did I finally hit my sub-three hour dream, I hit 2:57!" ...
continue reading
Battle Creek, MichiganSport: Running
---