The Marathon "Wall" and how to avoid hitting it!
The bad news is that "the wall" is a very real thing. The good news is that you can avoid "hitting the wall" if you follow this advice. This article takes only about 3 minutes to read, so read to the end … on race day you'll be happy you did!
Obviously anyone attempting to run a marathon needs to properly train. We like to say that if you don't put in the training miles you won't even make it TO the wall! That said, marathon courses are full of runners that have followed a training program and yet they still hit the wall.
Your glycogen stores (energy stored in your muscles and liver) are your primary source of energy when running a marathon or any endurance event. When you properly carbo load prior to your event your glycogen stores will have approximately 2,000 calories, regardless of your body shape and size. Think of your glycogen stores as your "on-board fuel tank". When your tank runs out you'll have to rely primarily on body fat as fuel. One pound of body fat contains enough energy to run approximately 40 miles, so we all have plenty of fat to finish a marathon. The problem is that fat is a "survival fuel" … it's designed to keep you alive. Fat is not a good source of fuel for high performance and it is slow to convert into usable energy. So if all you have left is fat, you'll still be able to move but you'll feel like a ton of bricks. You've just hit the wall!
why is the wall around mile 20?
When you run you burn approximately 100 calories per mile, give or take about 10% depending on body type, running pace, conditions (wind, hills), etc. So if you do the math at 100 calories per mile, after 20 miles you will have burned about 2,000 calories and your tank will be empty.
To avoid hitting the wall you'll need to take in a minimum of 600 to 700 calories during the event. It's vital that the calories you consume while running are rapidly absorbable, meaning that you'll want liquid calories from sports drinks or energy gels. Solid foods with fats, fiber and/or protein can cause all kinds of problems while running and detract from performance. You also want to use products with complex carbs instead of simple sugars. These two short videos explain why you want liquid calories and why complex carbs instead of simple sugars:
energy gels are the best choice
Energy gels are the perfect choice because they are: (1) liquid calories, just what you want as explained in the video above, (2) easily transported compared to the heavy weight of carrying your own sports drink, and (3) allow you to use your own nutrition as opposed to what's offered on course. Usually the on-course options are loaded with sugar (think Gatorade) and what ever else the race is able to get cheap or donated. If you want to perform well, plan on carrying your own nutrition products that you have trained with.
With Water! The biggest mistake that athletes make with energy gels is that they take them with a sports drink or other food. Bad idea. One of the advantages of an energy gel is that it is absorbed through osmosis with no digestive requirements. But for that to all happen the way it's supposed to you have to drink water. Taking other drinks and food can slow the absorption and cause stomach distress, not what you want while you're running. So just take your energy gel and water, it's that easy.
what energy gel should you use?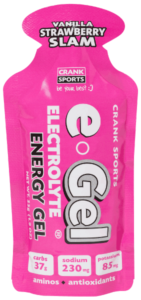 The problem with most gels is that they are either high in sugar (see video above), or they don't have the electrolytes you need. Electrolytes are critical to help maintain hydration and avoid muscle cramps and injuries. Only e-Gel Electrolyte Energy Gel gives you everything you need right in the gel!
4 x Electrlytes to avoid cramping and injuries




Loaded with complex carbs, just what you want!




Low in sugar to avoid spikes and crashes

Multi-carbs source (read why you want a little fructose)

Thinner consistency, no more choking on thick gels!

150 calories per pack, fewer to carry, less trash to deal with

no artificial colors, sweeteners or sugar substitutes

no caffeine (read why)
no fat, fiber or protein (video)

aminos and antioxidants to

reduce

lactic acid, soreness and speed recovery

large easy-grip top

we beat the competition (see for yourself)

customer proof (read below)


Maricopa, ArizonaSport: Running
---
Houston, TexasSport: Running
---
Oklahoma City, OklahomaSport: Running, Triathlon
---
Houma, LouisianaSport: Running and Triathlon
---
Big Bear City, CaliforniaSport: Triathlon
---
Waynesboro, VirginiaSport: Triathlon
---
Springfield, IllinoisSport: Running
---
Marietta, GeorgiaSport: Ultra Running
---
Battle Creek, MichiganSport: Running
---
Cleveland, OhioSport: Hockey
---
Livermore, CaliforniaSport: Ultra Running
---
Lakewood, CaliforniaSport: Running
---
Glendale, ArizonaSport: Triathlon
---
Burns, OregonSport: Cycling, Mountain Biking
---
Burtonsville, MarylandSport: Adventure Racing
---
Dunwoody, GeorgiaSport: Triathlon
---
Columbia City, IndianaSport: Running
---
Pasadena , CaliforniaSport: Basketball
---