How to avoid hitting "The Wall" in the Marathon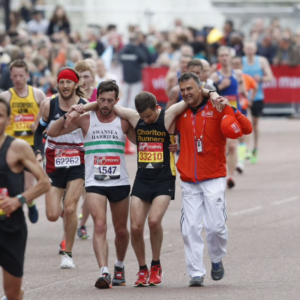 The bad news is that "the wall" is a very real thing. The good news is that you can avoid "hitting the wall" if you follow this advice.
Before we start …
Obviously anyone attempting to run a marathon needs to properly train. We like to say that if you don't put in the training miles you won't even make it TO the wall! That said, marathon courses are full of runners that have followed a training program and yet they still hit the wall (read on). In addition, we have received lots of feedback on this article from people that follow a Keto diet that starve the body of carbohydrates over time with the goal of teaching it to use fat as the primary fuel source (ketosis). Keto is NOT something you start doing on race day, it's a complete lifestyle change. This article is for people that eat carbohydrates!
What is the wall?
Your glycogen stores (stored in your muscles and liver) are your primary source of energy when running a marathon (or any endurance event). When you properly carbo load prior to your event your glycogen stores will have approximately 2,000 calories, regardless of your body shape and size. Think of your glycogen stores as your "on-board fuel tank". When your tank runs out you'll have to rely primarily on body fat as fuel. One pound of body fat contains enough energy to run approximately 40 miles, so we all have plenty of fat to finish a marathon. The problem is that fat is a "survival fuel" … it's designed to keep you alive. Fat is not a good source of fuel for high performance. So if fat is all you have left, you'll still be able to move but you'll feel like garbage. You've just hit the wall!
Why is the wall around mile 20?
When you run you burn approximately 100 calories per mile, give or take about 10% depending on body type, running pace, conditions (wind, hills), etc. So if you do the math at 100 calories per mile, after 20 miles you will have burned about 2,000 calories and your tank will be empty.
What's the solution?
To avoid hitting the wall you'll need to take in a minimum of 600 to 700 calories during the event. It's vital that the calories you consume while running are rapidly absorbable, meaning that you'll want liquid calories from sports drinks or energy gels. Solid foods with fats, fiber and/or protein can cause all kinds of problems while running and detract from performance (watch this video to learn why)
Energy Gels are the Best Choice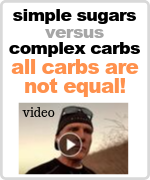 Most marathon courses provide Gatorade or some other high sugar drink that's not the best choice (watch this video to learn why). When you use energy gels you'll also need water, but there's always plenty of water along the course. So just carry your energy gel, take the course water and you're all set!
How Do You Use Them?
With Water! The biggest mistake that athletes make with energy gels is that they take them with a sports drink or other food. Bad idea. One of the advantages of an energy gel is that it is absorbed through osmosis with no digestive requirements. But for that to all happen the way it's supposed to you have to drink water. Taking other drinks and food can slow the absorption and cause stomach distress, not what you want while you're working out. So just take your energy and water, it's that easy.
What Energy Gel Should You Use?
Excellent question because all energy gels are not the same. The problem with most gels is that they are either high in sugar (see video above), or they don't have the electrolytes you need. Electrolytes are critical to help maintain hydration and avoid muscle cramps and injuries. Only e-Gel Electrolyte Energy Gel gives you everything you need right in the gel! To see how your favorite energy gel performs, check out these head-to-head comparisons
Don't take our word for it, read Facebook customer reviews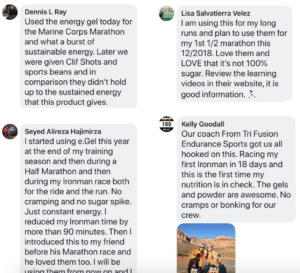 read Facebook customer reviews
More helpful info …
Marathon Race Day Strategy
Learn more about e-Gel
Compare Energy Gels
Buy e-Gel (see sale prices)
---
e-Gel Customer Testimonials
Real Stories from Real Customers …